Events
UPCOMING
Intangible Instruments, at 107 Presents: In Frequency, part of Vivid Sydney, 107 Projects, 107 Redfern St, Redfern, Friday 8/6/18
Soma Sonic, with Donna Hewitt and Alon Islar, Bondi Feast, Wednesday, 18 July 2018. The performers navigate the interface between humans and machines, from sensor based microphones and wearable performance interfaces to gesture controlled light environments, augmented vocal applications, embodied interfaces and off the shelf gaming controllers transformed into unique musical instruments.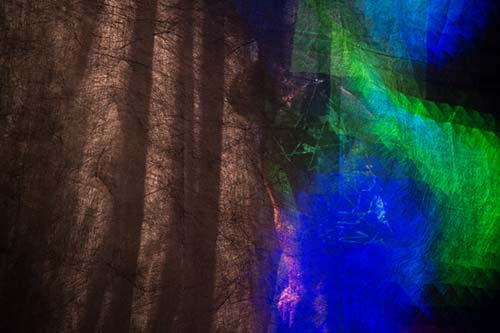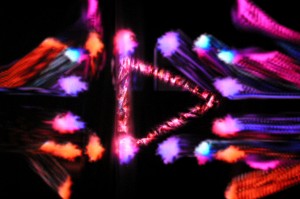 SELECTED PAST EVENTS & PERFORMANCES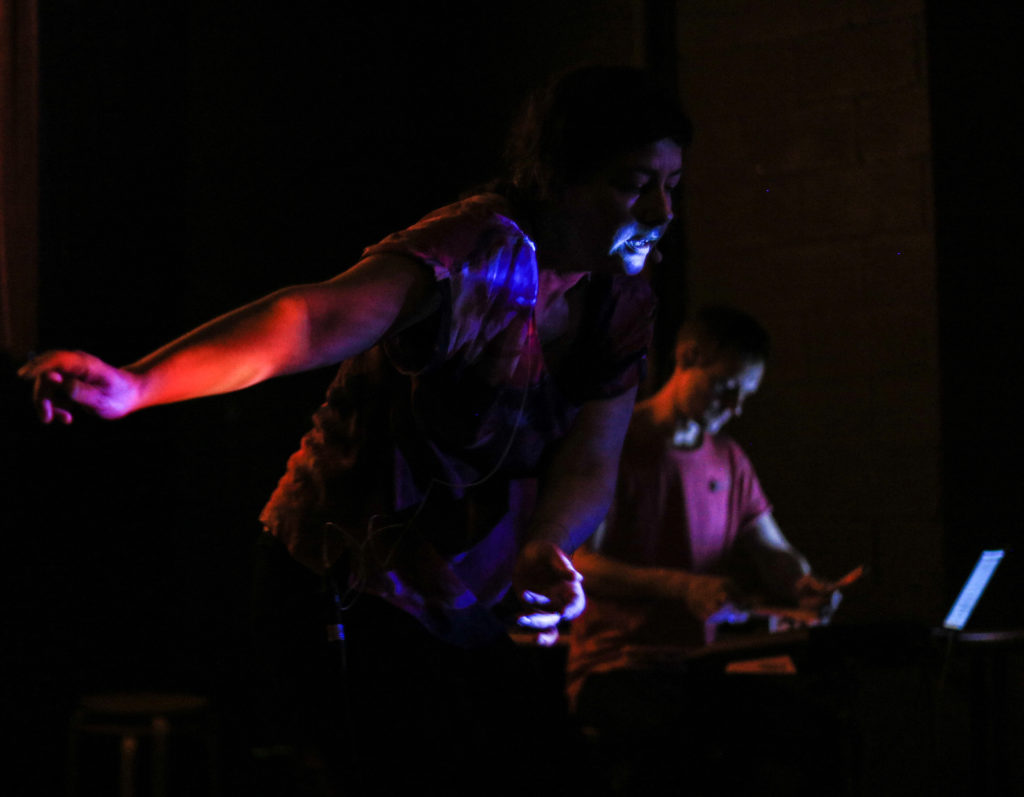 Electrofringe EF17 Art+Tech Showcase,107 Projects, Redfern, Saturday 4/11/17
PopCAANZ 8th International Conference, College of Creative Arts, Massey University, Wellington, New Zealand, 10 July 2017 (Presentation)
Electrofringe – Festival Showcase, 28/11/15
Australasian Computer Music Conference (ACMC2015) – University of Technology Sydney, 18 – 21/11/15
Beams Arts Festival – Chippendale, Sydney, NSW 19/9/15
"Music and Media" – Newcastle Conservatorium, University of Newcastle, NSW 5/9/15
Art.CHI2015, 18-19/4/15, Seoul, Korea – Catalogue accompanying a workshop and exhibition of interactive media works at CHI 2015, bringing together researchers and practitioners in the field of human computer interaction (HCI): http://art-chi.org
New Psycle – NYE Outdoor Festival 31/12/14, Upper Colo, NSW
Bodyscapes. Sydney Fringe Festival. PACT Theatre, Erskineville | 26/9/14 – 27/9/14
BEAMS arts festival – Chippendale's laneways. Sydney. 20/9/14
MOCO 2014 International Workshop on Movement and Computing | 16 – 17/6/14 | Ircam, Paris, France
NIME 2014 New Interfaces for Musical Expression | 30/6/14 -1/7 /14 | Goldsmiths, University of London, UK
Electrolapse BYOB (Bring Your Own Beamer) – Vivid Festival 2014: 31/5/14 and 1 /6/14
Velocimixer Installation, Museum of Contemporary Art (MCA) Sydney – Art Bar, 28/2/14
'diffuse' CONCERT  24/10/13, Bon Marche Studio
University of Technology, Sydney
Generative Processes, Feedback, Gestural Processing, Oboe and Interactive performance systems
2013 FASS Research Student Conference: Mindfulness: 15-16/11/13, University of Technology, Sydney
Electrofringe 2013 Showcase, 6/10/13, THIS IS NOT ART Festival, Newcastle, NSW
El Rocco, Potts Point, 24/7/13
9th ACM Creativity and Cognition Conference, Eugene Goosens Hall at the ABC Ultimo Centre, Sydney, 19/6/13
International Space Time Concerto Competition 2012, Newcastle Conservatorium, 2/12/12
Australian Computer Music Conference (ACMC 2012), Brisbane, Artist Talk, 12-15 July 2012
UTS Diffuse Season 2: Interaction – exploring interactive systems, digital instruments, visualisation and sonification, featuring Andrew Johnston, Jon Drummond, Linda Walsh, Samuel Ferguson and Mary Mainsbridge, 14/6/12
Festival of Flight, Flight Lounge, Stanwell Park, 13/11/11
Audiovisual performance, Return Flight Exhibition, Salmagundi Studios, Arncliffe, 9/7/11
Electrofringe 2010, Audio Production with Ardour – A workshop covering recording, mixing and mastering using open source audio program, Ardour. Presented by Ardour developer and producer, Nick Mainsbridge, in association with Mary Budimir.
VIVID Festival Sydney 2009 – The future of art and technology – A forum discussing, amongst other things, Nick Mainsbridge's work on the TUIO-based Ardour controller.
Sydney Conservatorium of Music 2009 – "Controlling Ardour with your body," Lecture by Nick Mainsbridge
Peats Ridge Festival January 1 2009, Land of Hopeless Utopians Dome
Art Groupie Exhibition – 22 – 28 September Tap Gallery, Darlinghurst
Underbelly Public Arts Lab & Festival 2008, July 3 – 13
Deprogram @ the Tap Gallery > Deprogram Video Exhibition & TAP Gallery, Darlinghurst; 5-11 May 08
Performances: Launch Party – 7 May
Closing Party – 11 May
Linux Conference Australia Multimedia 28 Jan – 2 Feb 08 UNSW Roundhouse
Bleepfest -Institute of Contemporary Arts, London, 7/10/06
BZoom Festival – Brno, Czech Republic, Talk on Ardour & and the other open source music production tools, 11/10/06
BZoom Festival – Brno, Czech Republic, Kabinet Múz, Performance, 12/10/06
Club Fleda – Brno, Czech Republic, 13/10/06
Mersey Club – Brno, Czech Republic, 14/10/06
Perpetuum Music Club – Brno, 17/10/06
Brno Circuit Day – Brno, Czech Republic, 21/10/06
Kulturrampe – Krefeld, Germany; 25 October 2006
Electrofringe Festival, Newcastle 1/10/06
The Great Escape Festival, Newington Armory, 16/4/06
Open Source Audio Panel; Playhouse Theatrette, Newcastle, 3/10/05
Electrofringe and Sound Summitt Showcase Gig; Newcastle Leagues Club, 1/10/05
Clan Analogue; REVENGE OF THE SYNTH @ The Mandarin Club, Sydney, 11/8/05
Club Kooky @ Club 77 19/6/05
Annandale Hotel 18/5/05 with Metal Dog and the Werewolves
Bob Moog's Birthday @ the Hopetoun Hotel, Surry Hills, Sydney, 22/5/05
Events Galleria: PULSE Pine Street Gallery, Chippendale, Sydney 28/4/05
Linux Audio Mini-Conf @ LCA 2005 @ TOAST Cafe & Bar, Canberra
Regrowth – 3 Day Revegetation, Music & Arts Festival, 12/3/05
Amalgamate, New Years Eve, Clan Analogue stage, 4 sound systems, free inner city warehouse party, 04/05
NatureofWood Warehouse Party, Alexandria, 11/12/04
Electrofringe 2004, Newcastle "Spidergrind" @ Quantacrib, This Is Not Art Festival. 1/10/04
Tamworth PCYC 20/9/04
CONSOLE: Manning Bar @ Sydney Uni, 27/8/04
Circuits Du Soleil @ Newtown RSL, 16/7/04
HOWLfest @ the Gateway Hotel, Newcastle, 29/1/04
Clarence Hotel – Bailey's Bar @ Petersham, 30/1/04
LADYfest Electro Closing Night Party @ Phoenix Bar, Melbourne, Sunday 23/11/03
Beat-Route Records Label Launch @ The Transit Lounge, Metro Theatre Sydney, Saturday 8/11/03
HOWLfest Fundraiser @ Cambridge Hotel, Newcastle, 9/8/03
DEPROGRAM MELBOURNE ALBUM LAUNCH @ Pony Club, Melbourne: 8/7/03
ACE Morning Bar @ Brunswick, Melbourne, 9/7/03
E55 Internet Cafe @ 55 Elizabeth St, Melbourne, 10/7/03
Clan Analogue Jam Night @ Bat and Ball Hotel, Surry Hills- Various artists, 30/5/03
DROP Night – Deprogram Album Launch. 1/5/03
LOGIC Workshop @ HOWLfest – Newcastle Women's Festival 1/2/03
DROP @ The Dendy Martin Place, Sydney 26/1/02
EXODUS Cyber Tribal Art & Music Festival @ Tenterfield near Byron Bay 1/1/02
SENSORY 5 @ Wood St Warehouse, Newcastle 12/1/02
ELIXIR Festival @ Central Coast, NSW 1/12/01
ELECTROFRINGE Festival @ Newcastle 28/9/01
POHODA Festival @ Trencin, Slovakia 21/6/01
Roxy, Prague 7/6/01
SaveSaveSaveSave
SaveSave